Tablet rental offers convenience to clients and generates profits to businessman
Posted in 9 de October de 2016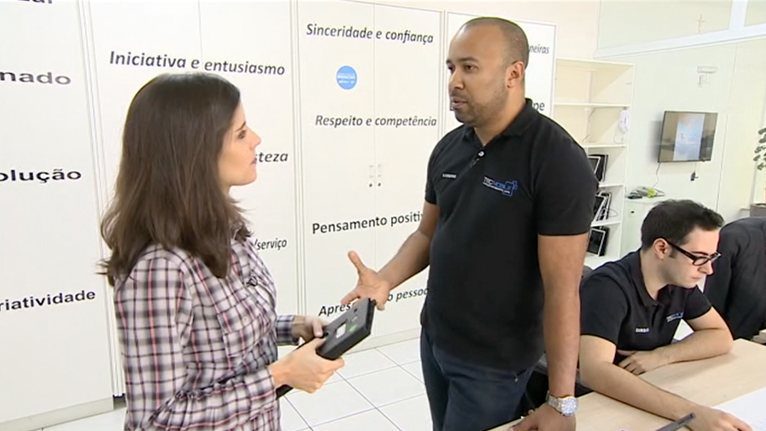 Tablets are part of the daily routine of the companies. The device provides mobility and convenience to employees who work on the street, for example. But good models are expensive. That's why, in the era of sharing, the moment is to sell the service.
"With the tablet everything is online and we don't need to worry about sending or taking the work to the Institute. It completely changes the interviewer's life." Says Tatiana Silva, who does surveys.
The businessman Evandro Barros realized that using tablet rental could make work easier and also bring profits. "At the first moment, there were 90 pieces of equipment. But in the first year I had an apartment on the beach and I turned it into tablets. "he says.
The businessman saw a market niche: tablets rental. He charges daily and provides support and maintenance. "The client that is on a big project sometimes needs hundreds or dozens of tablets, imagine if he need to buy this amount of equipment to use just in a specific period? What would he do with that?" asks Barros.
The result of a survey with 600 interviews needs around 6 thousand sheets of paper. But replacing paper for technology brings benefits to the environment, saves up to 8% of costs to the person who asks for the survey and reduces de work period from 15 to 10 days.
The businessman Evandro Barros sends tablets to the whole country with content developed internally. That's why the prices of the daily-rate, that are between R$18 and R$150, vary according to the package ordered by the client.
Nowadays, the company rents around 800 tablets a month. The businessman is planning the next step. He got a Colombian partner that trusts on the service to get in the international market. Evandro Barros says that he recovered the R%350 thousand from the selling of the beach apartment in 20 months.
Watch the full story below:
comentarios
---
Contact us and learn more about our solutions